What we do
Wi-Fi networks are perfect for delivering venue or brand messaging. We deliver targeted messaging and media to your audience on or off network.
Contact Sales
Messaging and media
Promote your brand, products, app and services
Solicit Survey responses and feedback
Activate 3rd party advertising for revenue generation
Retargeting and audience extension
Continue to message and engage audiences via SMS, email or programmatic advertising.
Engaging and intelligent Wi-Fi experiences
WiConnect offers the most flexible Wi-Fi engagement platform in the world. Whether you are a public transit system, smart city, hotel, retail establishment, restaurant or any venue that provides public Wi-Fi, we offer limitless audience engagement.
Scan for Demo:

Revenue generation sponsorship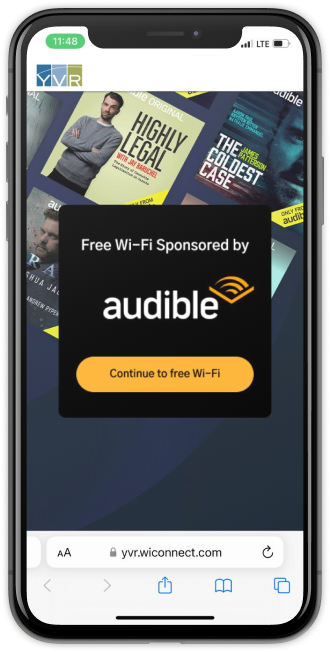 Empower audience engagement with WiConnect:
Improve Wi-Fi onboarding control by device manufacturer and OS version
Self-service messaging and campaign management
Deliver messaging and/or advertising to targeted audiences
Receive and deliver reporting with customized dashboards
Build new User Experiences (UX) quickly with our Self-Service Portal
Audience logon verification
Customized, branded landing pages
Promote venue information and services
Conduct surveys
Gain access to audience insights
Vary the user flow based on audience
Communicate via multiple languages
Continue to communicate with audience even when they leave your venue
Receive revenue even without adding advertising to the Captive Portal
Revenue generation
For public Wi-Fi owners and operators that want additional revenue, we offer several options. The good news is we do all the heavy lifting.
Once our platform is integrated, we provide the revenue.
WiConnect has the technology, the expertise and a sales team that delivers results.
Integrated options
Incorporate our Captive Portal integrated with Advertising based revenue.
Incorporate our customized Media Portal to communicate with your audience while we generate revenue via direct sales, programmatic advertising, paid content, etc.
Leverage TRG (Traffic Revenue Generation) that secures revenue without the use of advertising through the Wi-Fi onboarding experience. TRG can be generated on Wi-Fi, Mobile and broadband networks.
Make every connection count with our unique
combination of network and adtech expertise.
Connect with us